This page is dedicated to those that have ventured out to the region and are not here just to work. Here we have recommended some places to visit and to eat and drink. There are many more to add and we will continue to update this page, which means you may need to refresh the page in your cache.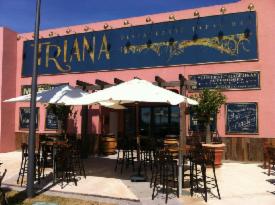 Next door to the Mombasa Cafe on the Boulevard you willfind the new TRIANA Restuarant & Bar.

If you haven't tried the new TRIANA restuarante then get down there…great food and even greater prices!
The restaurant is owned by Jose Manuel Rincon Dominguez who has been dedicated to his profession in Andaluz de Sevilla Capital offering a pure strain of Andalusian Cuisine including Fish, Seafood, and stews. Some of the specialities include braised veal or Iberico pork cheeks, oxtail stew and much much more.
t: +34 968 328 280
Closed Mondays.
A little bit of the UK in Spain. Only 10 minutes from Murcia Airport this is a great place to grab a beer and a meal either when you land or take off. Your hosts Gary & Sue, together with their team offer great pub grub, while you watch a game of football, horse racing, golf or the tennis.
They have regular evenings of entertainment with local singers and excellent tribute bands. Children are always welcome and they have FREE Wi-Fi!
We recommend that you give Time Out a go...we're sure you wont regret it.
t: +34 610 352 610
w: www.timeoutsportsbar.es
You will find one of Murcia's best kept secrets between San Javier & Murcia on the C3319 near La Torre Golf Resort. That is "The Jaipur Palace Indian Restaurant".
The restaurant offers traditional Indian food and some excellent specialities. The food served in this restaurant is exquisite and the service first class. The food is fresh and each dish has its own flavour and aroma.
t: +34 968 58 05 65
Ope: 18:00 - 23:30 Everyday.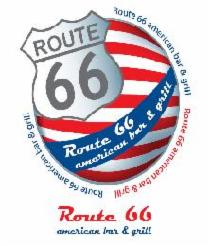 On the door step of the Mar Menor Golf Resort in the new Boulevard you will find this excellent American Bar & Grill. he Route 66 serves an array of typical American food from Hamburgers & Fries to Sizzling Fajitas & Nachos...you can get your fill of the good old U.S of A right here.
They also have a Sports Bar area where you can watch Football, Golf, Rugby and Cricket.
Drinks prices are exceptionally good and you can have a choice of Heineken, Amstel, Strongbow, Guiness or John Smiths on draught.
t: +34 608 183 049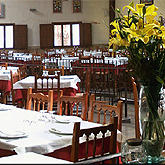 El Patio II is part of a chain of 4 restaurants in the Murcia Region. You will find this establishment in Los Alcazares (near Mercadona Square) and if you are a meat lover this is the place to go...they specialise in "Carne a la Brassa" roughly translated that's basically Gilled Meat from their indoor Bar-b-que. They serve some of the best steaks in town and you can order them exactly how you like...remember rare in Spain is "Poco Hecho"...but don't worry they speak sufficient English to make sure you get what you want...try the "Carne a la Piedra" this is where you cook the meat on a hot stone at your own table.
t: +34 968 575 959
Closed Sunday Night and Mondays during winter.
Everyone enjoys the zoo and this is not only a great place to visit as a zoo it is also a waterpark where children of all ages (5-105) can have a great timne. The Animal trail is well thought out and there are plenty of animals and birds to see. Once you have done the zoo you can go into the waterpark and just relax on teh sun lougers (arouns 3€ for the whole day to hire) or get on the slides and if you are of a nervouse nature there are various pools to take a dip in.

t: +34 902 50 55 60
Visit www.terranatura.com
If you are into history then Cartagena provides you with all that you want. This is a photo of the The Roman Theatre of Carthago Nova and Cathedral ruins of Cartagena. There are excellent bars and restuarants in the city and also plenty of designer shops. A definate place to go and get some real Spanish culture.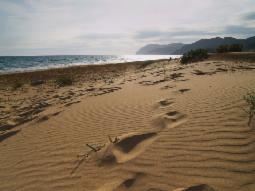 Calblanque Natural Park...A must visit, its free and beautiful, just before you arrive to the unique La Manga strip you have one of natures hidden beauties. The beachs are golden and the water warm and shallow (in some parts you must watch fir the currents). This is a great place to go and unwind but make sure you take a picnic and plenty of fluid as there are no bars or toilet facilities. And for t hse that like to be at one with natire there are natuist areas where you can well and truly strip off.